This summer's program was our biggest and boldest yet. So much fun, so many movies and so many filmmakers unleashed in the world.
One and Two Week Programs for New and Advanced Filmmakers – SUMMER 2015
PRODUCTION CREW: 6-7 year olds
July 6-10th, Monday to Friday 9AM-12PM
JUNIOR DIRECTOR'S SEAT: 8-10 year olds
July 27-31st, Monday to Friday 9AM-3PM
DIRECTOR'S SEAT: 11-13 year olds
July 20-24th, Monday to Friday 9AM-3PM
SENIOR DIRECTOR'S SEAT: 14-18 year olds
Earn 4 high school credits through SelfDesign High (not Selkirk College)
Grade 10, 11, 12 participants who reside in BC
July 6-17th, Monday to Friday, 9AM-3PM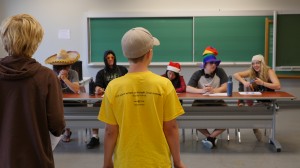 Youth ages 6-18 create dynamic short digital films from start to finish
All sessions take place on the 10th Street Campus of Selkirk College where participants have direct access to professional camera gear and the latest in digital film software
Professional instructors facilitate a safe, fun and hands-on environment for all types of learners
Participants work as a crew to develop the technical and creative skills of filmmaking as cooperation, communication and leadership skills are emphasized throughout the learning process
All programs run Monday–Friday, from 9am–3pm, except the 6-7 year olds who attend from 9AM-12PM each day.
The Graduation Celebration takes place on the last Friday. All family and friends are invited to a screening of the final films.