Upstream Benefits: Roundtable and Arc Revisted
Touchstones Nelson and Oxygen Art Centre, Fall/Winter 2017
The 'Upstream Benefits: Artist-Run Culture in the Kootenays' exhibition involves ten artists: Courtney Andersen, Susan Andrews Grace, Amy Bohigian, Brent Bukowski, Boukje Elzinga, Ian Johnston, Maggie Shirley, Natasha Smith, Deborah Thompson and Rachel Yoder, a sampling of the impressive caliber of artists that call the Kootenays home. The artists involved in this exhibition example how artist run culture in the Kootenays has been supported and developed over the last decade. The place in which we live is an important part of the creative process; artists are informed and fostered by place, where they live and where the work was conceived and created. Each artist will display an early instrumental piece – from their tenure here in the Kootenays, in tandem with a new work, which will illustrate the evolution of their respective creation/styles/approach. This exhibition is about artist run culture, about the creative process and the importance of place. 2017.
Pick Up the Phone
Installation for Nelson at its Best – Capitol Theatre, Fall 2017-Winter 2018
People from Nelson were engaged through the 'Nelson at Its Best' initiative to share their response to two questions: What is your experience of poverty? and What helps?. Taking excerpts from the written submissions, Amy Bohigian recorded four peoples' voices, then wired each intimate vignette into one of three rotary phones. The voices begin to talk when you pick up the phone, prompting a connection to a person in the community telling the listener about their personal experiences of poverty.
Link to event here.
Arc: A Story Between Two Frames
Kootenay Gallery of Art – Building the World We Want (2016), Touchstones Nelson (2017), LUNA Festival Revelstoke, (2017)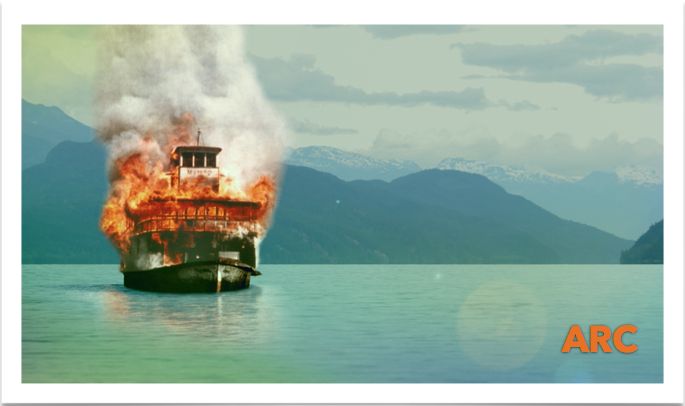 Arc is a large-scale new media projection for public spaces that pairs historical and contemporary photos. When juxtaposed, these two images reveal a full narrative about the transformation of both the physical and social landscape of the interior BC using sound design and video animation. Amy Bohigian, a filmmaker and new media artist based in Nelson BC, is collaborating with Daryl Jolly (Animation) and John Tucker (Sound Design) to create Arc.
Wide Shot/Close Up
Touchstones Nelson Museum of Art and History, Fall/Winter 2014-15
One part art installation, one part social experiment and one part community development exercise, Wide Shot/Close Up exposes and explores how individuals present their own identity to others and how this impacts the way community is built. It engages a larger audience about the questions of how people from various backgrounds and beliefs can connect in meaningful ways.
The exhibit ran at Touchstones from November 14th until February 15th. The Artist Talk was on Thursday November 20th at 7PM and the gallery is open that night if you want to catch the show beforehand. Here's the article that Will Johnston wrote for the Nelson Star.
This project is funded by a major project grant from the Columbia Kootenay Cultural Alliance and the The Mir Centre for Peace is partnering with Watershed Productions on content and delivery. The Presenting Sponsor is Kootenay Co-op.
Watershed Productions looks to inspire and engage through the medium of video art and installation. Amy Bohigian has been an artist-in-residence and exhibited her work across British Columbia in galleries and in public spaces. These interactive projects are designed to engage, confront and illuminate the viewer.
Roundtable
Artist-in-Residence at Oxygen Arts Centre, September 2008
This video installation constructs a dialogue about livelihood and community between seven residents who reflect the diversity of Nelson, BC. This lively discussion juxtaposes a wide range of perspectives with images of their hands at work on a typical day to inspire a fresh dialogue about a community in transition.