Blog
Monthly Archives:
November 2017
Sage and Finley's was out last stop for the Culinary Culture series for Nelson Kootenay Lake Tourism. Featuring the star power of Jenna Raider Skidmore and Tanya Finley (debut performance) bringing us into the kitchens and to the bars of our amazing local eateries. Camera by Bohdan Doval, Original music by Ben Euerby. View the video on Facebook with this link.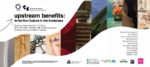 The 'Upstream Benefits: Artist-Run Culture in the Kootenays' exhibition involves ten artists: Courtney Andersen, Susan Andrews Grace, Amy Bohigian, Brent Bukowski, Boukje Elzinga, Ian Johnston, Maggie Shirley, Natasha Smith, Deborah Thompson and Rachel Yoder, a sampling of the impressive caliber of artists that call the Kootenays home. The artists involved in this exhibition example how artist run culture in the Kootenays has been supported and developed over the last decade. The place in which we live is an important part of the creative process; artists are informed and fostered by place, where they live and where the work was conceived and created. Each artist will display an early instrumental piece – from their tenure here in the Kootenays, in tandem with a new work, which will illustrate the evolution of their respective creation/styles/approach. This exhibition is about artist run culture, about the creative process and the importance of place.
Please join us at Touchstones on Friday, November 17th from 7-9pm for the opening reception of the 'Upstream Benefits: Artist-Run Culture in the Kootenays' exhibition. Then on Sunday, November 26 @ 2pm all ten exhibiting artist will join curator Arin Fay in a 'MEET THE ARTISTS' talk as part of the symposium programming at Touchstones. Arin will use her approximately 20 years of knowledge of these artists and their practices to lead an animated discussion about the exhibition, which asks these artists to show a pivotal piece from the artist's past and a new work in the context of their practice as rural artists.