Blog
Monthly Archives:
March 2015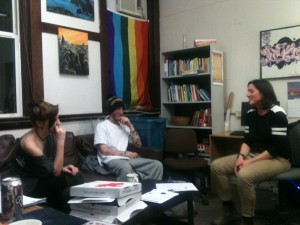 Watershed Productions is working with Freedom Quest Regional Youth Services. With the funds received from the Columbia Basin Trust we will produce a PhotoVoice video focused on marginalized and at-risk youth from the West Kootenay, which will be showcased at the Creating Caring Communities conference in May 2015 in Castlegar. The project will build awareness about youth and their experiences with substance use and mental health.
"I came here to share my story about the real repercussions that drug use can cause and the serious consequences it can have in one's life," said participant Cloe Henri. "My ultimate goal is to help others see the lifelong consequences."
"I feel like my experiences and stories will give perspective on what goes on in our country and our province and our streets–a lot of the times it is really hard stuff," said participant Kenneth Rougeau. "I feel I can shed some light."

It was fun to be profiled in the Fernie Fix here. Thanks to Hannah Griffin who tracked me down and did this interview. While we didn't actually cross paths in the wilds of Ontario, she became a staff member at YMCA Camp Pinecrest where I used to work before I moved to Nelson. Small world.