Director's Seat
Online Registration Now Available for 2016
SUMMER 2017 – for 11-13 year olds
July 10-14th, 2016 – Monday to Friday 9AM-3PM
The 11-13 year olds work together to make their own movies and short videos. Each participants gets hands on experience with storyboarding, cinematography, and using advanced editing techniques. Those participants keen to act will have a chance to shine. Both new and experienced filmmakers welcome. No equipment necessary.
COST
$335. See Registration and Bursary information below for more details. All camera equipment and editing software is provided. Participants may chose to bring their own camera to use.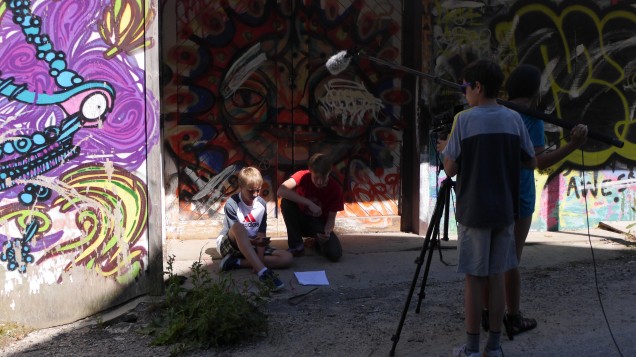 Registration Information
To Register Online visit: http://distance.selkirk.bc.ca/ce/courses/children-youth/digital-film-camps
To Register by phone: Call Selkirk College/Erin Potulicki at 250-352-2821 ext 0 (for reception) or 250-352-6601 ext 13299
To Register in person: Visit the Selkirk College/KSA office at 606 Victoria Street Monday-Friday 8:30am-4:00pm. Office is closed 1-2PM for lunch.
Bursary Information
There is a bursary program for families who need some financial assistance. Please download this form and email it to info@watershedproductions.ca.
Bursary-Permission-Form-Watershed-Productions-2017
Bursaries are first come first serve. $50 is available for the Production Crew (6-7), Junior Director's Seat (8-10), Director's Seat (11-13) and $100 is available for the Senior Director's Seat (14-18.) If you require further assistance please indicate that on the bursary form. Bursaries for Senior Director's Seat are not available if the participant is registering through SelfDesign High.
For Further Program Information
Contact Watershed Productions at 250.551-1711 or email info@watershedproductions.ca